It is sometime we are irritated with the
system notification area
in order to hide the
system notification area
do the following steps.
STEP 1
click on
START
button select
RUN
and type ''
gpedit.msc
''
STEP 2
Group policy edit window appears
There are two options computer configuration and user configuration.
Computer configuration is used by administrators to change group policies that are applied to computers regardless who is log on to it.
User configuration is is used to set policies applied to user regardless the computer ie it is specified for users.
Select
User configuration
.
STEP 3
Select
ADMINISTRATIVE TEMPLATES
and expand the folder. Select
START MENU AND TASKBAR
.
On the right pane list of settings will be displayed
STEP 4
Select
HIDE THE NOTIFICATION AREA
and right click/double click
PROPERTIES
(if right click).
A description regarding the setting will be shown. It has mainly three options.
NOT CONFIGURED
ENABLE
DISABLE
Not configured
/
Disable
will show the notification area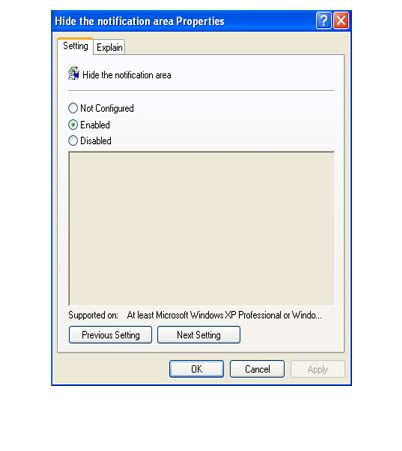 ENABLE
will hide the notification are including notification icons (hidden also). The Taskbar contain only
Start button,Taskbar buttons and System clock.
Important:
After setting has been done do
RESTART
Computer